Saturday, March 20, 2004:
N 09o20.942′
W 079o40.374′
(Panama Canal Yacht Club, Colon, Atlantic end of the Canal)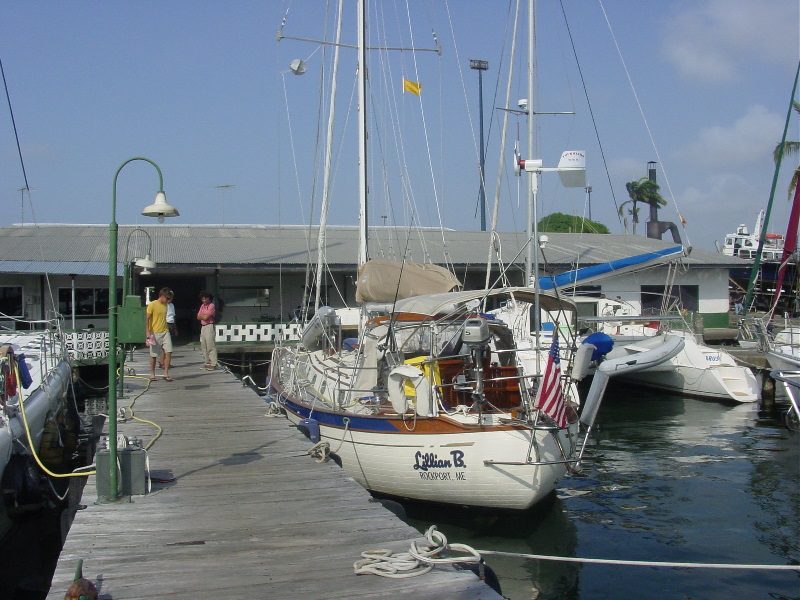 Kay, Dick Hiatt, Matthew and I are sitting in the Restaurant/Bar at the Panama Canal Yacht Club. The air conditioning feels like diving into a cold pool. The beer is $3.50 a pitcher. The bar is shaped like the bow of a ship. The clientele are from all over the world, for the most part wearing the standard sailing uniform of rumpled shorts and T-shirts with logos such as "Rum is the Answer." Some of them are fresh off their boats, an oxymoron. Others have had time to take a shower and hand over their laundry to the Panamanian woman who monopolizes the machines at five to twenty dollars a bag, depending on your negotiating skills.
We arrived Sunday the 13th of March and anchored along with dozens of other small boats in a region called the flats. The next morning, Chris, Peter and I attempted to row in against the wind (still without our motor) and must have looked sufficiently pathetic that a gentleman from Sweden fired up his outboard and towed us to land. From there things have moved steadily forward, if not swiftly. Victor, one of the dockside mechanics, cleaned the carburetor better, obviously, than we did, with the result that the outboard now works. Hensley Walters, the one-eyed cab driver who claims the nickname Dracula on his business card, took charge of us and began to lead us through the bureaucracy of the paper work for the Panama Canal. Dracula works for Tina McBride, who, for a significant fee, acts as an agent for boats transiting the canal. I had called her by satellite phone Sunday night, looking for help. Next time I would do it by myself, but it has been very much easier with her and Dracula's guidance. Although I'm not sure, dropping her name seems to have moved us to the top of the list on getting a prime spot at the yacht club docks. By noon on Monday we were tied up to terra firma, no more than 15 yards from the bar, with showers not much farther away, and with a dockside hose next to Lillian to begin washing away three weeks of salt.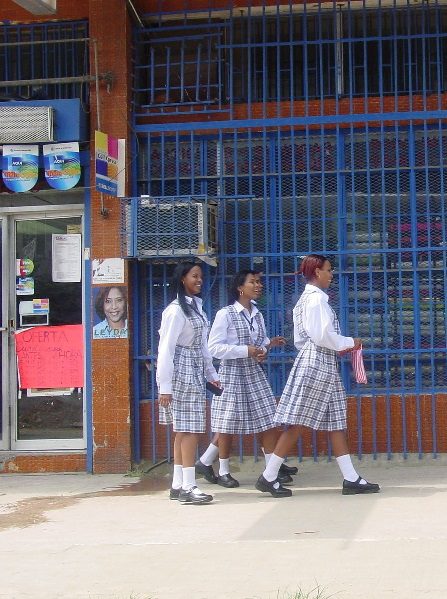 School Girls in Colon, Panama
Tuesday night, a truly enjoyable fellow by the name of Stanley Scott drove Dick and me over to pick up Kay and Matthew at the Panama City airport. Stanley has both eyes, and an SUV making for a slightly more relaxed ride in Panamanian traffic. We did take a very nice day trip with Stanley on Thursday, but since our arrival, it has been mainly a series of errands and attempts to find a new venue at the yacht club. The later means trying a different table. There is limited walking room at the yacht club, which is surrounded by a high fence with razor wire on top. The guidebooks basically say that if you go into Colon, you will get mugged sooner or later. Heeding that warning, we have conducted all business in the city by taxi or else relied on dockside services. After nearly a week, the sail has been mended by the sole local sail maker, the roller furler is fixed, the bilge pump unclogged, the electronic autopilot is magically up and running, and the part for the mechanical autopilot arrived with Kay. Meanwhile, Chris and Peter were able to find a boat that needed crew, so they served as linesmen on Thursday. Chris is on to Costa Rica and Peter is probably somewhere in Panama City, to return by tomorrow, we hope.
We are scheduled to go through the canal on Monday. Today or tomorrow we will get ten old tires wrapped in duct tape to use as buffers between us and the pilot boats and/or tugs that we expect to tie up next to. We will also stock up on food so that we can proceed quickly towards the Galapagos once we transit. Wish us luck and look for us on www.pancanal.com if you have nothing better to do. I'm not sure what time we will transit, but the first lock will be an uplock (Gatun Locks) followed by two sets of locks that step us down to the Pacific (the Pedro Miguel and Miraflores Locks). Hopefully the next e-mail will be from the Pacific Ocean.