Saturday, July 5th (47o 34.476'N, 59o08.266'W): Port aux Basques, Newfoundland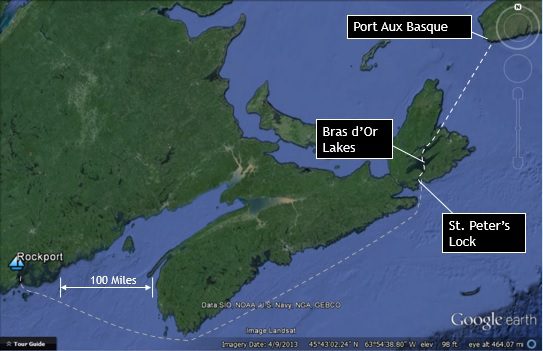 The Lillian B is currently secured to an abandoned industrial pier at the south side of Port aux Basques harbor. She has four lines running forward from the bow, two spring lines from amid ship, and three from the stern. These are the heaviest lines we have on the boat, including ¾ inch nylon lines, left over from the transit of the Panama Canal ten year ago and now dragged out of storage from deep inside an aft locker. Chaffing guards in the form of rags have been added. The sails have extra loops of rope to prevent them from becoming unfurled. The canvas Bimini has been removed and stowed below. The wind generator has been lifted from its normal perch and is now in a protected exterior corner of the empty warehouse to starboard.
Arthur, working his way up the east coast is predicted to hit Newfoundland this evening with sustained winds of 40 mph with gusts up to 60. The winds are forecast to be from the SE at the height of the storm, which would put Lillian in the lee of the pier, protecting her from both wind and waves. Under those conditions, she will be pushed away from the wall and hang safely on her lines. If and when the winds shift around to the west as the storm passes, the sharp ends of the cut and rusted cables hanging from the dock are now safely behind used tires provided with the permission to used them, as long as we don't bring them back.
In the process of preparing the boat, no less than a dozen people have found their way over to this relatively remote part of the harbor to observe and offer advice. In general, most have approved of our location and preparation, with only a few dissenters. Earlier today the winds were above 40 knots but have now died down to less than 10. It's tempting to believe that the storm has passed completely, but more likely we are in the eye, with more to come. Whatever the case, Dave and Peter have been instrumental in helping to evaluate the situation and secure the boat and I'm confident she sits as well prepared as possible to ride out the storm.