Thursday July 8, 2004
Bora Bora, French Polynesia
S 16o 29.332', W 151o 45.707'
My wife, Kay, and son, Matthew, arrived on schedule in Papeete on June 7th via Tahiti Air. Two days after her arrival, Kay lashed out that she was ready to go home. A week later she was swimming and smiling among the fish. A month later she said she didn't want to leave.
I confess I did not respond sympathetically to her initial reaction. I should have, since the transition to living shipboard is not an easy one. It must be even more difficult for a woman sharing the interior of a small boat with three males. The Lillian B. is a well equipped boat, but she is designed for ocean sailing first, creature comforts second. Being a boat, running water is limited. There is only one bathroom (referred to as the head in nautical terms). The shower is no more than the size of a small closet. When it rains the interior is damp. Restocking food without transportation is a difficult logistical exercise. Laundry often has to be done by hand, or at expensive laundry services that wash only. In Papeete, Lillian was bow to the quay, such that getting on and off the boat was a gymnastic event. Worst of all, in harbor, the toilet reverts to a holding tank, with all the charm of an indoor "port-o-let". To Peter and me, the Papeete marina was the gateway to the big city. To Kay, it was a noisy, smelly parking lot for boats.
Fortunately, three days after Kay and Matthew arrived in Tahiti, we left the industrial harbor of Papeete. The rest of June was spent exploring anchorages spread across the Society  Islands of Tahiti,  Mo'orea, Huahine, Raiatea, and Bora Bora. Some were in deep protected harbors surrounded by high mountains and lush tropical vegetation. Others were tucked behind barrier reefs, with the ocean waves crashing loudly as Lillian swung gently on her anchor in the protected waters of the lagoon, with a view of volcanic mountains on one side, and the open Pacific on the other. More amazing, however, than the spectacular views above the surface, were the waters below. It was sometimes so clear that Lillian looked as if she were floating on air. You could see her shadow on the bottom.

Whenever we were anchored in clear water, we would go snorkeling. For the first time in her life, Kay wore contacts under her snorkeling mask and could clearly distinguish the brilliant colors and shapes of the fish and coral. Some of the fish are so fantastical that it was hard not to laugh as they swam by. While in Raiatea, Kay, Matthew and I decided to take scuba lessons and get our diving licenses. Feeling like an ad for AARP, Kay and I tried to keep up with Matthew as he took to the water like the near fish that he is. During the very first lesson, the instructor had to retrieve him as he started to swim off into the deep looking for sharks. It was a new experience for all of us, and more difficult than I expected. As those of you who have taken scuba lessons know, there are several safety drills such as sharing air and clearing your mask of water when you are 60 feet below the surface. I knew Matthew would do well, however, I was particularly proud of Kay who not only passed all the tests, but also kept with it, despite the four foot white and black  tip   reef  sharks  who  would  occasionally  appear alongside as  we  explored  the  reef.  For  me,  the shared experience of those dives was worth the trip. For Kay, her favorite memory might be the moon rise on Bora Bora. We were sitting on the beach after sunset, looking east towards Raiatea when the full moon broke into the open through multiple layers of clouds, above a constellation of lights on the outer reef. That was July 2, two days before Matthew and Kay had to leave. She asked me to note it in the journal.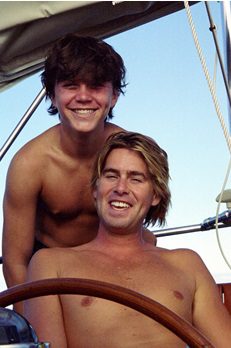 Whenever we were anchored in clear water, we would go snorkeling. For the first time in her life, Kay wore contacts under her snorkeling mask and could clearly distinguish the brilliant colors and shapes of the fish and coral. Some of the fish are so fantastical that it was hard not to laugh as they swam by. While in Raiatea, Kay, Matthew and I decided to take scuba lessons and get our diving licenses. Feeling like an ad for AARP, Kay and I tried to keep up with Matthew as he took to the water like the near fish that he is. During the very first lesson, the instructor had to retrieve him as he started to swim off into the deep looking for sharks. It was a new experience for all of us, and more difficult than I expected. As t