Sunday August 10, 2014 (74o 44'No 91.47'W): Erebus and Terror Bay,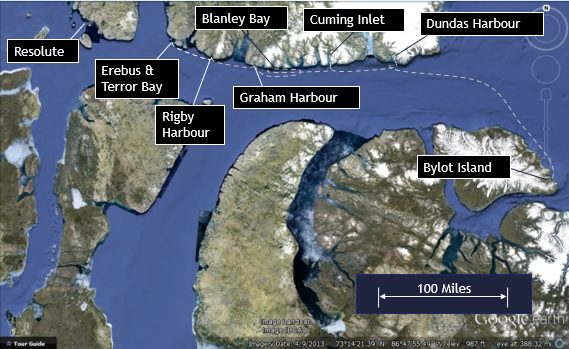 By Sunday, the high winds at Rigby Harbour had calmed down to around 25 knots. Given that we had dropped our anchor in eight feet of water, retrieving it was timed for near high tide and at 12:30 (EDT) we departed Rigby Harbour, heading towards Erebus and Terror Bay.
With the winds out in the Lancaster Sound now from the west, we had the option of motoring into wind and waves or of beating to windward under sail. Sailing to windward is not Lillian's strongest point of tack and requires traversing back and forth over 45 degrees to the wind, increasing the distance covered by nearly 50 %. But with the winds at around 25 knots and the waves less than a meter, she cuts though the seas gracefully and with power. Turning off the engine was a welcomed relief as the drone of diesel was replaced by the sounds of water streaming past the hull at five knots. For the next ten hours we enjoyed what would make for a perfect late fall afternoon sail back in Maine; clear, crisp, with partial sun and even a few snow flurries.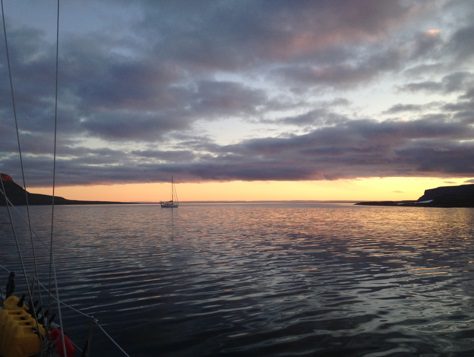 Despite the temptation to sail all the way into the harbor, it was getting late, and with half a mile to go, we started the engine and began to scoping out a place on the south side or the harbor when we saw the French boat Manevai on the other side, a little over a mile to the north. As we motored passed, three of the crew were on deck to welcome us to the harbor. (This was the same boat we'd tied to on our arrival in Upernavik, Greenland, over two weeks earlier.) After exchanging greetings, we moved off a hundred meters and dropped anchor in twenty four feet of water, with not a single piece of floating ice in view.