Sunday, Jan 16, 2022
Latitude 28o 30' N
Longitude 16o 12' W
Varaderos Anaga , Tenerife
Life on the Hard
I'm back from my Winter break in the US and now on board the Lillian B in her spot in the Varaderos Anaga boatyard in the Canary Islands. As planned, my wife Kay flew into Tenerife back in October for a ten day rendezvous and then helped move the boat to the yard before we both flew back to Maine.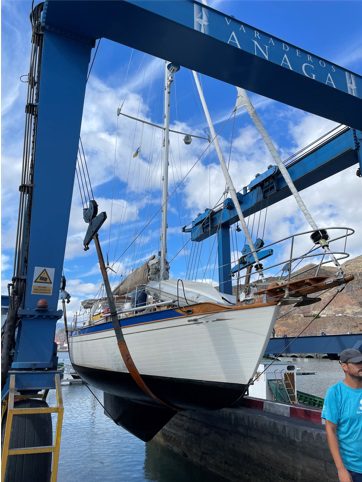 Lillian has been in dry dock ever since or, as the they say in Maine, "up on the hard," (where "hard" comes close to rhyming with "odd"). She is currently sitting in the far corner of the yard, hemmed in by other boats in various stages of repair. Boarding requires climbing up a 12 foot ladder attached to her starboard side. Upon my return I found her deck and cockpit covered with a thin layer of soot and sand. The soot is ash from the neighboring volcano on the island of La Palma, and the sand is drifting in from Africa, turning the skies hazy and dusting the boat with a fine powder. Other than that, she looks to be in good shape.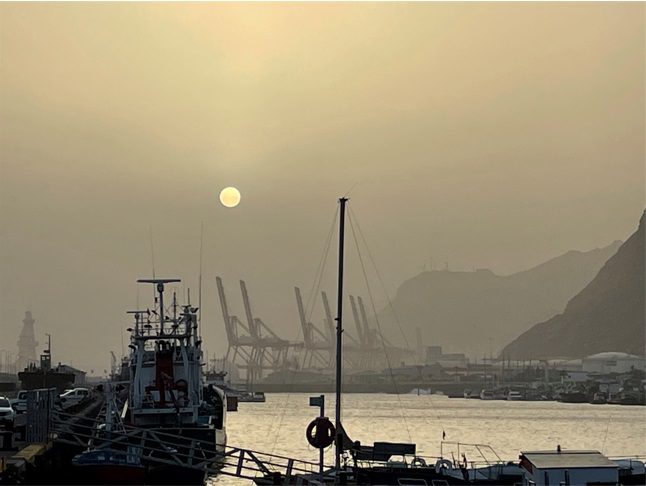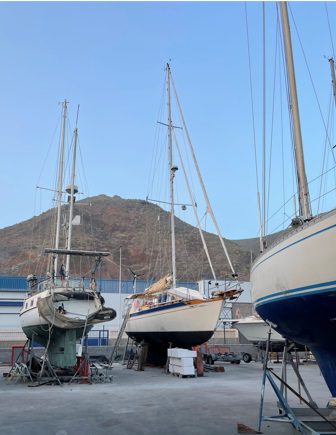 Lillian's hull appears to be well secured by a combination of metal jacks and wooden posts with wedges, although at around 3am late night I thought I felt a slight shift as the wind howled. I rolled over in my narrow bunk and went straight back to sleep, comforted by the rationalization that if she'd stayed upright for the past three months, the addition of my weight wasn't going to have much effect on the stability of a 30,000 lbs. boat.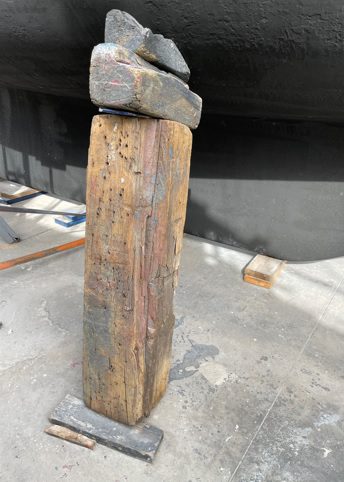 Staying on the boat is similar to living in an RV that could use some work. I have battery power for lighting and a propane stove that works very well, but no refrigerator, no drinking water, and no toilet (head). The refrigerator is engine driven which requires sea water for coolant. The water maker also requires sea water. And while the head has a holding tank, I prefer not to use it with no access to a pump-out facility. Fortunately, the Anaga Yard does have toilets and showers available around the clock but I admit to resorting to the old sailor's standby (and I do mean old) of having a well-marked jar for the middle of the night. This avoids having to climb up and down a 12 foot ladder while half asleep.
As for drinking water, the morning of my first full day on the boat I put on my COVID mask and walked the 200 or so yards to catch the number 910 bus into the city. Everyone in Tenerife is now wearing masks in public, even those walking along otherwise deserted sidewalks. You can take off your mask when eating in a restaurant but only after displaying your COVID QR vaccination code or, in my case, the handwritten paper vaccination card I got from VA. Once at the supermarket I bought two 5 liter bottles of water, frozen salmon, a baguette, wedges of camembert, a prepackage salad, and  a bottle of local wine to carry back on the bus for dinner.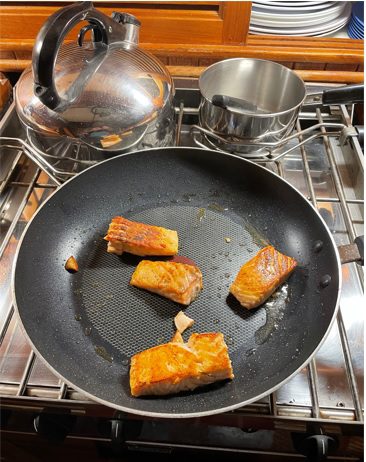 Since my arrival on the boat on Wednesday, I've been mostly filling  in the  hours looking forward to the arrival of the first crew members  next week. I shouldn't complain too much since with my typical day is a swim at the sweeping Teresitas beach a mile's walk to the north, a leisurely read on my cell phone, and  a bus trip into Santa Cruz for dinner, a beer and e-mails at the Candela Café with its free internet access.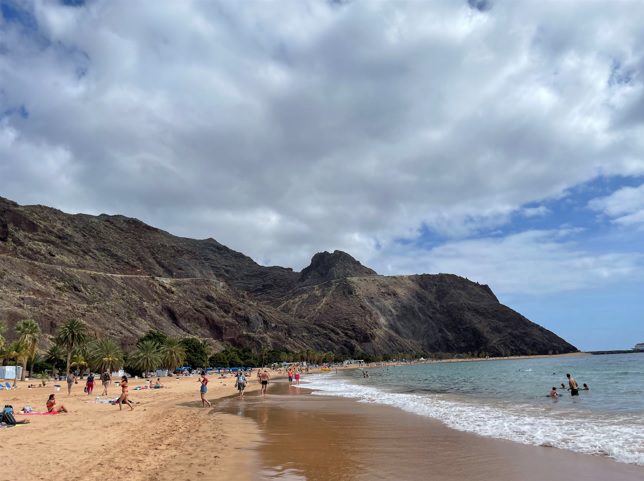 Yet, despite those pleasant distractions I still have the sensation that I'm "killing time." I remember from high school my best friend and I using that expression to describe whatever it was that we were doing and Ted Stein, one of our favorite teachers, admonished us with a tone of wisdom and melancholy, saying that "killing time" was one of the worst things one could possibly do in life.
Once the crew arrives and we set sail I'll no longer be wasting time according to the re- purposed quote[1], " God does not deduct from man's allotted days, the time spent sailing." But while sailing might not subtract time from   those at sea,  I have come to appreciate that time does not stand still for those left behind. With that perspective  I look forward to the sail ahead and the memories and experiences that  it will bring, coupled with a sense of longing to get back home.
The planned path is below: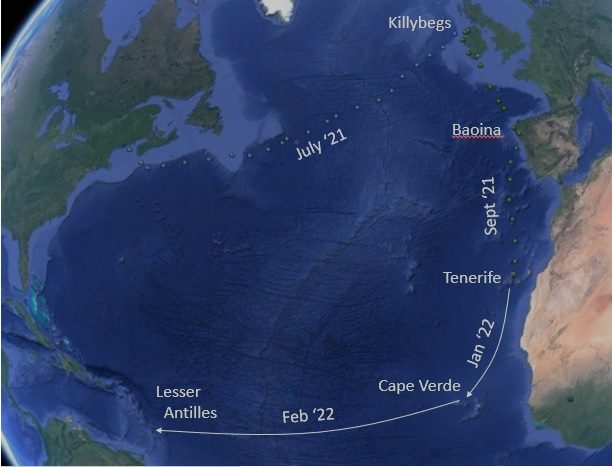 [1] " God does not deduct from man's allotted days, the time spent fishing." – Herbert Hoover