Tuesday July 13, 2004
120 miles SE of Penrhyn, Northern Cooks
S 10o 23.3', W 156o 56.4'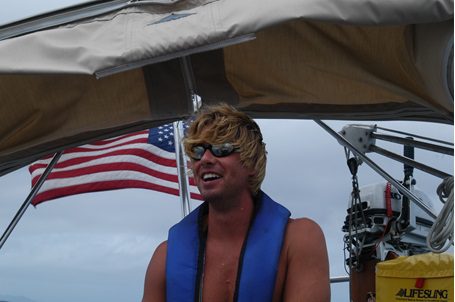 Peter and I are at sea again, sailing from the French Polynesia island of Bora Bora to the remote Northern Cook island of Penrhyn, 600 miles to the northwest. Our last day in French Polynesia we hiked to the top of Pahia, the second highest peak on Bora Bora and were rewarded by a spectacular view of the iridescent lagoon and the vast ocean beyond. Parts of the climb required pushing through thick underbrush and clinging to roots and rocks as the trail quickly ascended. It was a good way to breath in the last scent of the islands before the salt water would wash all traces away.
As planned, the next morning, Saturday July 10th, Peter and I were looking back at our hike over Lillian's stern, watching Bora Bora fall steadily behind. For me, however, the smell of the ocean came as a surprise. The combination of salty, soft warm air and humidity reminded me forcefully of Florida. It evoked decade old memories of stepping off the plane in Fort Myers, when my Father was still alive and Kay, Matthew and I would fly down during Spring break to visit both my parents in Naples. After the stale air of the airplane, the smell of the moist Florida air was always a fragrant welcome. Smelling the sea air off Bora Bora, these old memories then mingled with the more recent emotions and impressions of our departure from Stuart Florida on board the Lillian B., last spring. Although they are hard to articulate, they included feelings of excitement mixed with nervous anticipation. As Peter and I set out onto the sea again, it was difficult to separate those memories from my current emotions.
Three days later we are within 100 miles of Penrhyn. The winds and waves have been very accommodating. Only last night was I slightly concerned as I assumed the watch and saw thunderstorms flashing in the east, stalking the horizon like wild beasts. The primary concern was that these storms could turn and surprise us before Peter and I had time to take down our large spinnaker sail. If that happened, the spinnaker would no doubt come down anyway, but not in the controlled fashion we prefer, and perhaps not in one piece. However, despite the storms in the distance, the winds immediately around Lillian were gentle and the sky above was filled with hazy stars. The "beasts" on the horizon remained far off, providing a natural light show in concert with the occasional shooting star that would streak overhead. As the night wore on, the storms eventually disappeared. The winds have remained fair, and if we maintain near our current speed, we should be anchored in the lagoon of Penrhyn by this time tomorrow.