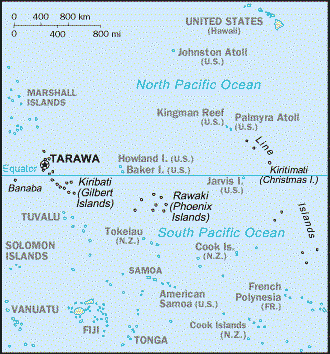 Information on the Republic of Kiribati from the www.cia.gov information website

Name: conventional short form: Kiribati ( pronounced keer-ree-bahss ) former: Gilbert Islands
It was discovered by Captain Cook on Christmas Eve, 1777
Background: The Gilbert Islands were granted self-rule by the UK in 1971 and complete independence in 1979 under the new name of Kiribati. The US relinquished all claims to the sparsely inhabited Phoenix and Line Island groups in a 1979 treaty of friendship with Kiribati.
Geography: Oceania, group of 33 coral atolls in the Pacific Ocean, straddling the equator; the capital Tarawa is about one-half of the way from Hawaii to Australia; note – on 1 January 1995, Kiribati proclaimed that all of its territory lies in the same time zone as its Gilbert Islands group (GMT +12) even though the Phoenix Islands and the Line Islands under its jurisdiction lie on the other side of the International Date Line
Total land area: Four times the size of Washington, DC
Terrain: Mostly low-lying coral atolls surrounded by extensive reefs
Population: 100,798 (July 2004 est.)
Ethnicity: Predominantly Micronesian with some Polynesian
Religion: Roman Catholic 52%, Protestant (Congregational) 40%, some Seventh-Day Adventist, Muslim, Baha'i, Latter-day Saints, and Church of God (1999)
Late Journal Entry July 24: Kiribati, (N 2o, W 157o): After leaving Penrhyn, the next stop was Kiritimati (Christmas) Island, Kiribati, one of the Line Islands, a convenient layover enroute to Hawaii. Other than its longitude and latitude, Peter and I knew little about our destination. Dick Hiatt had sent us an e-mail from a website with selected information about the Republic of Kiribati, pronounced "Kerr-ree-bahss". It said, among other things, that visas were mandatory, but our attempts to e-mail the Kiribati consulate in Hawaii had remained unanswered. We didn't even know the official language, but we were not deterred. However, one thing we'd learned in sailing to remote locations is that personal interaction is often more important than official policy and regulations. We were confident that we could just show up and deal with immigration once we got there.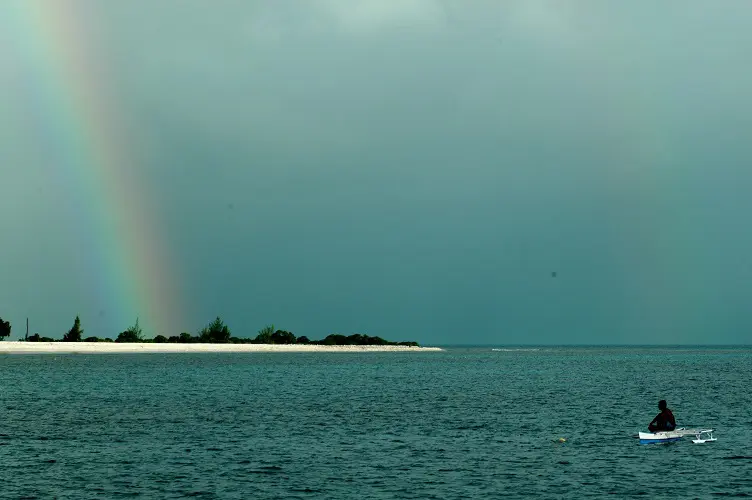 However, before we could arrive at Christmas Island, we had one remaining problem. We did not have a chart for it. More precisely, we did not have a chart for this particular Christmas Island. I had failed to discover, until too late, that the chart supplier had provided a map of Christmas Island over in the Indian Ocean. Captain Cook might have used long boats to discover a passage through the reef. I used my satellite phone.
Perhaps the largest differences in sailing today, as compared to the era of Cook, or even as compared with twenty years ago, are the advances in navigation and communication. A handheld GPS provides global positions with accuracy on the order of meters. Standing on the deck, a handheld satellite phone provides nearly instantaneous contact with any other phone in the world. Out on the ocean, hundreds of miles from Kiribati, I bounced a signal off several fast-moving, low-orbiting satellites, connected to Bluewater Books and Charts, used my credit card, and had them overnight the correct chart to my wife in Huntsville Alabama. If I'd been set up for it, I could have even used the phone to connect to the internet and download an electronic version directly to Lillian B. In a slightly less sophisticated approach, Dick Hiatt, back in Huntsville, acted as a remote navigator. After reviewing the chart, he e-mailed GPS waypoints via the single side band radio. Using those waypoints as a guide, we found our way safely to an anchorage on the lee side of the island and dropped anchor on the other side of the International Date Line, Thursday, July 22 (Friday, July 23, Kiribati time).
As it turns out, the official language of Kiribati is English, although it is very much a second language. Unlike Penrhyn, the island seems to have a reasonably strong, albeit odd, economy. It is odd in the sense that the stores on the island look as if they have been stocked by the latest errant container to have washed off the deck of a passing freighter. One small store on the island had a nice supply of leather American footballs, at a reasonable price. This unclaimed baggage economy is supplemented, among other things, by the elite sport of fly fishing for bonefish, attracting sportsman from all over the world to come stay the local "Cook's Hotel" formerly a barracks for nuclear test engineers. There is also a small scuba diving operation for tourists seeking to explore uncrowded reefs. On our approach to Kiritimati, we could see large military looking dish antennas on shore, giving me second thoughts as to whether we should be turning up at the island unannounced. In point of fact, the dishes belong to the Japanese Space Agency, the people of the island were very friendly, and we were warmly welcomed, even without having called ahead.