Monday Aug 30, 2004
N 40o 30'
W 141o 00'
850 miles to San Francisco
We have finalized San Francisco over Seattle as our point of landfall, partly due to weather and partly because of the availability of facilities and transportation for having Lillian trucked back to Rockport, Maine. We still have 850 miles and some potentially "boisterous" sailing to go, but the miles are beginning to pass more quickly.
Our main regret at not heading to Seattle is that we will miss the opportunity to visit with several friends, including fellow South Pacific cruisers Tom and Lee, from the yacht Cat's Paw. The first time we met Tom, of "Tom and Lee," Peter, Dick and I had just set foot on Hiva Oa, after the 23 day passage from the Galapagos Islands to the Marquesas. Tom was headed towards us, down to the rocky ramp used as a dinghy landing. I immediately went over to shake his hand, as if he were part of a welcoming committee. In hindsight, he may have felt a little taken aback by having a total stranger stop him midstride. Accosted or not, Tom welcomed us to land and we exchanged brief statistics such as where we had come from, the quality of the passage, and the name of our respective boats.
This was the harbor of Atuona1, by far the worst anchorage we would encountered during our six months of travel from Maine to California. At night, the swells would funnel in behind the breakwater and steepen into 3-4 foot waves that bobbed the crowded fleet of boats up and down, tugging at their anchors in an attempt, sometimes successful, to drag or jerk them free. At 2:00 AM, the morning of the first night, the owner of the boat to our starboard rowed over and pounded on our topside. I had been sleeping fitfully in the cockpit. "Your boat is 3 meters from mine!" he exclaimed in a Scandinavian accent, though his boat hailed from San Diego, "That is nine feet .. that is too close!" If I'd been quicker, I could have asked him how that translated into furlongs or leagues. Instead, I explained defensively that we had two stern anchors out on the port side and that I didn't want to crank in anymore line for fear of reducing the scope and thereby the holding strength. He rowed back without another word.
Despite my response, I sincerely shared his concern and didn't sleep for the rest of the morning. Meanwhile, Tom's boat Cats Paw was anchored over near the rocks on the west side of the harbor. I doubt if he was sleeping either.
The next evening I again encountered Tom on shore as I attempted to wash clothes at an outdoor faucet and as he was waiting for one of his crew, C.J. to return from town. More notes, more details. Tom's wife, Lee, was flying in to join him, but she had not arrived with the plane, or the plane had been delayed. I don't remember which. Eventually Lee arrived the next day, and we were introduced outside the bank in town. Over the next two months, the wakes of Cats Paw and The Lillian B. would cross repeatedly, initially by serendipity, later by design if our general itineraries coincided. It became a repeated jest that whenever Lillian B. would approach a remote tropical lagoon or bay, we would expect to see Cats Paw already at anchor.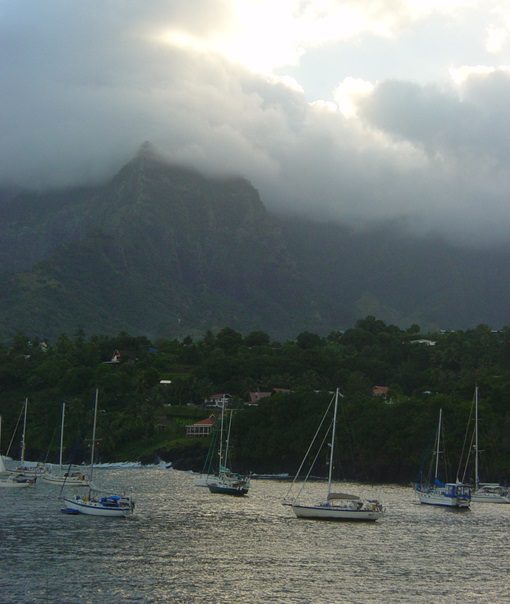 Friends and family came and went from both boats, as we visited across 1000 miles of French Polynesia. Finally, in Bora Bora, Peter and I waved a final goodbye to Cat's Paw as she slipped out of the anchorage, headed back to Papeete to be shipped on a cargo vessel to Seattle. The next day Peter and I continued sailing north to Hawaii. Every three days, until the reception failed us, we would check in with Tom and Lee via SSB, mainly to let them know that all was well.
Unlike many cruisers who participated in a radio web as they travelled, our radio on board Lillian B. was used primarily to download e-mails and weather information and rarely to communicate with other boats. We were not, what one might categorize, a social boat. None-the-less, one of the main rewards of the last six months has been the feeling of commraderie with fellow cruisers. To encounter a familiar boat thousands of miles from when last seen is like encountering a familiar face in a foreign city. Such encounters should not have been unexpected, perhaps, given that we were all traveling the same winds, but that made them no less exciting.
There was an impressive 50 foot French yacht, with whom we transited the last lock on the Panama Canal, lashed like a small barge to their port side. This was the yacht with the young hired captain leaning nonchalantly against the stern rail, smoking cigarettes, and according to Kay, looking very French and very dashing, while the owner and his wife enjoyed an elegant lunch. We would see them again, briefly, in the Galapagos and twice more in the Marquesas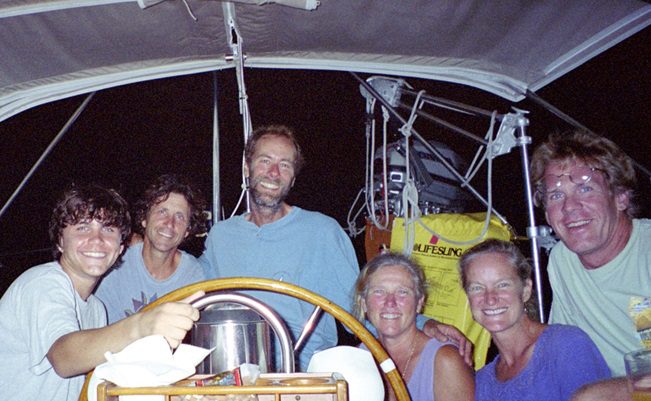 There was another French boat, Bijouden Blue, with whom we'd shared the excitement of a mid-ocean sighting between the Galapagos and the Marquesas, while still over 700 miles from landfall. The mother had sounded nearly overwhelmed by her children's anxiousness to reach land. Two weeks later, when the Lillian B. entered the remote Bay of Virgins in Fatu Hiva, Marquesas, the Bijouden Blue was already swinging at anchor. Now, obviously content, the children were laughing and sailing around the anchorage in a small makeshift sailboat.
And there was the yacht Airborne, a beautiful 51' Hinckley, which had been in dry dock in Stuart Florida, undergoing final preparation for her voyage to Australia as the Lillian B. was undergoing her own preparations. Like an anxious rookie, I had plied her Captain, Denny Emory for advice on transiting the Panama Canal. Both Denny and later, Ben, another of her Captains, would provide useful advice on both the canal and on weather services. We would see Airborne three months later at anchor in Nuku Hiva, Marquesas, and 800 miles later we would drink beer with the crew in Papeete, Tahiti. In the "it's a small world department," it turned out that one of her crew, Hunter Dalhberg, was a wilderness survival instructor with whom Peter had last spent several weeks "surviving" on a glacier in Alaska a couple of years back.
The more isolated the spot, the faster the bond. During our brief two days in the Northern Cook Island of Penrhyn, Ed and Annette, in Doodlebug, a regal 53' Amel Millennium, were the only other yacht in the lagoon, the only others to have shared the unique experience of exchanging money with the village exchangeman, Warrick. I dare say that Annette received a much more civil reception than Peter and I evoked. Anchored off the village of Omoka, Annette prepared a farewell lunch for us as if we had been longtime friends, and motoring out of the lagoon felt as if we were leaving old friends behind.
The people we have encountered have been as varied as their boats. In addition to newcomers like us, intending to return to a life on shore, there were perpetual sailors, such as couples in retirement, content in each other and content to let the wind dictate their schedule. There were experienced, sailing pioneers like Webb Chiles, four time circumnavigator (Cruising World, January 2004) one of the intrepid sailors who were out doing this in the days before GPS and who test themselves against severe hardships and dangers off the beaten path.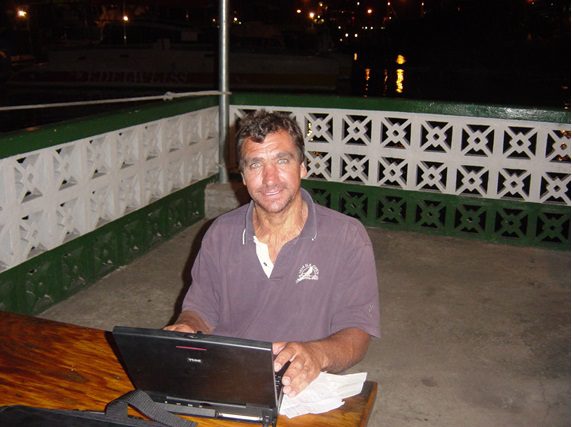 And, there were inspirational individuals like Charl de Villiers, a deaf man, attempting a solo circumnavigation. We met Charl in Panama and again in the Marquesas when he had to stop to make repairs. His warmth and friendliness stand in stark contrast with his solo sailing style. Last report, he was nearing Madagascar. His adventures can be tracked on website www.silentvoyager.com.
There must be hundreds of boats that make the annual "Coconut Milk Run" downwind to the South Pacific. Inevitably, their paths cross. There were dozens of other boats with whom we shared experiences, either directly or remotely. Anchorages, ocean passages, spectacular sunsets, experiences good and bad, are the stuff of shared memories. But the crew with whom we shared the most anchorages and tropical sunsets, not to mention hors d'oeuvres, was that of Cat's Paw. Cat's Paw is due to arrive in Seattle on a transport in a few days, to be met by Tom and Lee. It would have been truly ironic to have pulled in to the harbor at the same time. But, such is not to be. Short of a planned trip to the Northeast, we'll have to let fate determine our next meeting. But no matter what, we'll always have Atuona.
1. A postscript for all you purists: Although I refer to this harbor as Atuona, I am technically referring to the Baie of Taahuku, the main harbor serving the Village of Atuona. There is a bay of Atuona slightly to the west, but it is open with poor access to shore and is rarely used as an anchorage.