Hello fellow landlubbers …good to be back.
This is coming from my home computer …e-mail SamuelALowry@comcast.net
A late entry ….
Monday, September 16, 2004
N 34o 44'
W 86o 35'
Huntsville, Alabama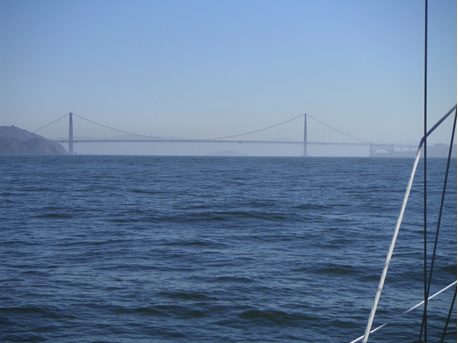 On Tuesday, September 7th, the morning of the day we arrived in San Francisco, Mother Nature had one more change in temperament and we ended up motoring the final 30 miles to the coast under very light winds. Only after having passed under the Golden Gate Bridge, were the winds sufficient to allow us to raise the Genoa and sail in past Alcatraz and Fisherman's Wharf and then under the Bay Bridge to South Beach Marina. Stepping onto firm ground after weeks at sea was by then a familiar transition. We found our "land legs" almost immediately. It had taken 21 days to go from Honolulu to the mainland, with two days to spare before Peter was to board a plane for his Dad's wedding. The next day, with little time to enjoy the city of San Francisco, we motored over to the KKMI shipyard in Richmond, on the far side of the bay. The KKMI yard turned out to be a very friendly and highly efficient boatworks servicing, among others, top of the line racing teams, including Oracle, one of the America's Cup contenders. Within 24 hours of arriving at KKMI, Lillian was out of the water, up on stilts "on the hard," with her mast along side. KKMI was so adept at moving large boats around that at least twice I would return to where Lillian had been, only to find that she was now wedged in some other spot in the crowded yard. Except, of course, for operating the crane and the boat lift, Peter, Pedro, and I did as much of the work as possible in preparation for Lillian's road trip back to Rockport, Maine.
A partial list of the tasks at KKMI, (in no particular order), is a follows:
Rinse the boat
Pickle the water maker
Clear out front and side storage lockers
Repack cockpit locker
Drain oil and stow outboard motor
Rigging
Remove and stow lazy jacks
Remove and stow wind indicator
Remove and stow topping lift
Remove and stow external halyards and sheets
Snug internal halyards
Wrap reefing lines
Disconnect and stow shrouds and
Remove and stow backstay piston
Disconnect electrical wires at the base of the mast
Pull mast (KKMI crane)
Wrap mast and furlers in cellophane
Remove, fold, and stow all sails
Remove and stow radar dome
Remove and stow radar reflector
Remove and stow "Grannie" bars (safety rails around the mast)
Remove and stow Dodger and Bimini canvas
Remove and stow Dodger and Bimini frame
Remove and stow solar panel
Dismantle and stow Windgenerator
Disconnect and stow antennas for GPS, SSB, VHS, and CARD
Remove hydrofoil from the self steering mechanism
Shut off and secure propane tanks
Deflate and secure the dinghy
Secure the anchors
Charge batteries and turn off
Stow liferaft
Disconnect the stereo (traditionally the last task).
As Lillian was dismantled, so also did the crew disassemble. Pedro's cousin picked him up Wednesday evening. Late Thursday, a taxi drove Peter to the airport for the next leg of his trip home to his Father's wedding, which he did make on time. Meanwhile, I stayed on Lillian over the weekend, up on stilts as she was. In my spare time I completed the remaining tasks from the list above. On Tuesday morning, Sept 14th, a week after our arrival in San Francisco, I boarded a flight to Huntsville, with Lillian scheduled to be loaded onto a truck the same day. I am now back in Alabama and Lillian is en-route to Maine.
While it feels very good to be home, getting back into a land-based routine has not been as easy a transition as simply stepping out onto the dock in San Francisco. My first night at home I climbed out of bed around 1:00 am to check on how well the anchor was holding. I went so far as to look out through the shutters before concluding that the neighborhood looked quite secure. Like Segismundo, there is a dreamlike quality in switching from one reality to the other. The planning maps left behind are still standing in a tube next to my desk, as if from yesterday. It is enough to make one ponder the mercurial passage of time, youth, or, at the very least, vacations.
I am have great fun talking to friends and coworkers about the trip and I do feel a sense of accomplishment at Peter's and my having sailed from Maine to San Francisco along with the help of family and friends along the way.  Much of the satisfaction is simply in having overcome the inertia that discourages one from setting out into the unfamiliar.  In practice, most of the route we took, often referred to as "The Coconut Milk Run," lived up to its name as an easy passage. Thousands of sailboats and sailors have made this trip, many of whom have documented their voyages with detailed advice. While there were dangers, they were typically of the same magnitude as those one might face driving cross-country. The main difference between driving cross-country and sailing to French Polynesia and back was the remoteness of the longer ocean passages.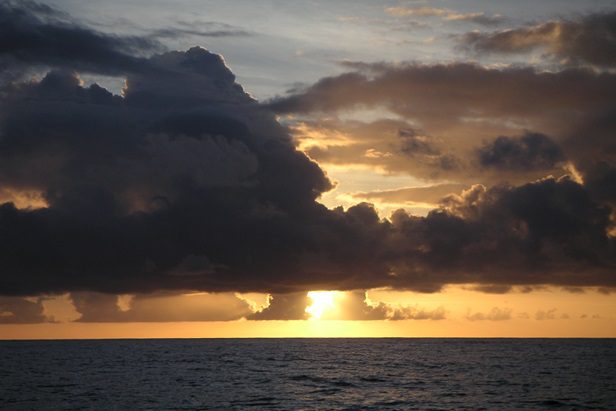 Only when I look at a globe do I have any feeling of how physically isolated we sometimes were. On Lillian, we carried our horizon with us. At sea, our world consisted of simple daily tasks surrounded by the magnificent beauty of the open ocean. E-mail and the satellite phone maintained a link to home. Precise latitude and longitudes provided by the Global Positioning System gave us a sense of security and identity in knowing our position to the third decimal place. In many respects, our egocentric existence on board Lillian was little different than that of our fellow humans on terra firma, surrounded by a sea of stars, incomprehensible in their extent.
The rewards of the trip included the time spent with family and friends, the feel of Lillian on a good sailing day, and the beauty of the surroundings: nighttime on the ocean, the coral reefs of the Tuamotus or the tropical forests of Marquesas. Seen through fresh eyes, I suspect that a Spring in Alabama or a Fall in Maine would be no less spectacular. No doubt a walk up Mount Battie behind my Grandmother's house in Maine would seem as exotic to Francis and Angele of Fatu Hiva, as their ripe mangoes and jagged coastline did to me.
The walk up Mount Battie starts in the seaport town of Camden, Maine. The road goes past apple trees, laden with fruit in the early autumn. At the head of Mountain Street a trail leads off into the woods and then winds steeply upward over lichen covered granite boulders and through thick pine forests blanketed by dense moss. At the top, and along the way, are spectacular views of Camden and the islands and waters of Penobscot Bay. Depending on the time of year, there are wild blueberries on bushes in the clearings. The inner harbor below is crowded with boats, while, out in the bay, Windjammers and small sailboats crisscross between islands.