Sunday May 16, 2004
Taiohae
Nuku Hiva, Isles Marquise
S 08o 54.9 W 140o 06.2
Within minutes after Dick, Peter and I first stepped on land in the Marquesas and began walking towards the village of Atuona, a car stopped and offered us a ride into town. Having local townspeople give us rides was to become a common means of transportation along the coastal road of Hiva Oa. Occasionally, we would have to walk the full two kilometers to or from town, but usually someone with a truck would stop and we would climb into the back. A simple "Merci" was all that was needed in exchange. You don't have to stick out a thumb; you just have to look like someone in need of a ride. Such friendliness and willingness to help seems to be characteristic of the Marqueseans.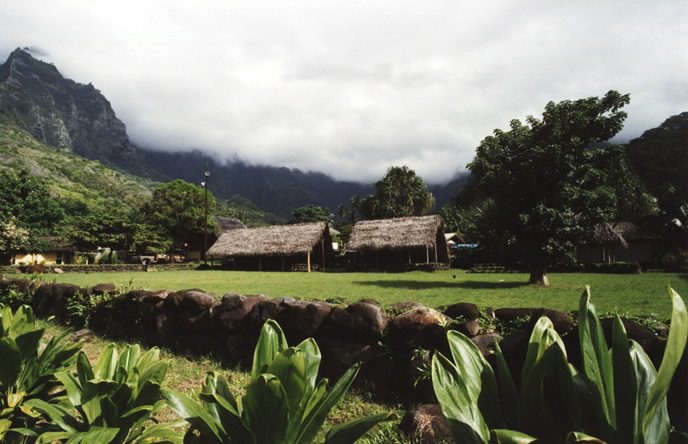 One of our nicest encounters with the Marqueseans was on the isolated island of Fatu Hiva. Hoping to taste local fare, we asked Angele, the wife of one of the local fisherman, if she would prepare us dinner. We had met Angele earlier when she sold us a large fresh fish that her husband, Francis, had caught. Without hesitation, she agreed to cook us dinner and opened up her house the next evening to feed us a feast of fresh fish, fruit and bread.
Dinner time was set for 6:00 pm, and Francis met us at the harbor landing and walked along with us to their house, stopping at a neighbor's to borrow a chair.
He and Angele had a very simple, typical home along the only road running through the tiny village of Hanavave. The foundation was concrete slab with wood framing and plywood walls. Inside were two small rooms, the larger being an open shaped room with the TV, a mattress, dining room table, small kitchen and freezer for the catch of the day. Their two young sons were asleep on the mattress as a French dubbed version of the TV show "Friends" flickered in via satellite.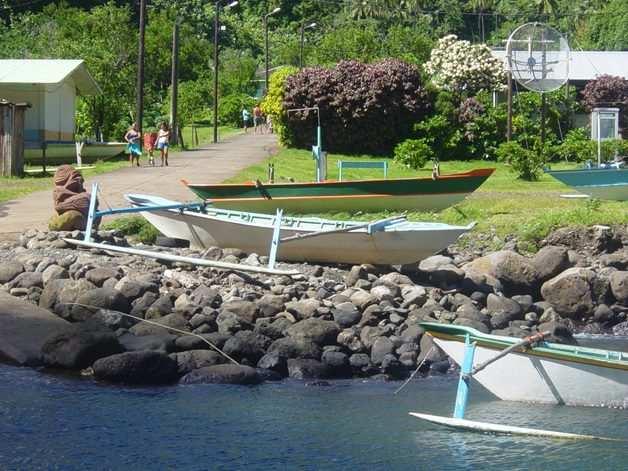 The food was already on the table. Francis and Angele motioned for us to sit down and hovered over us as they made sure that we were getting enough to eat. One of the dishes Angele had prepared was the traditional Marquasean Poisson Cru, a type of shashimi prepared with lime and coconut milk. Beside the Poisson Cru was a large pan of baked fish with a delicious pungent brown sauce, heavy in garlic. There were several other side dishes including rice, corn and beignets, the later Angele having added to the tables, as if concerned that there wasn't enough food. The fruits were bananas, papayas and mangoes straight from the trees. To drink, we had brought some red wine that we shared with Francis, everyone drinking out of a single bowl that he provided from the cupboard. As we ate, I tried to converse in broken French, telling them how much we were enjoying the meal.
Despite the language barrier, we were able to learn a little about their life on the island. Francis gets up at 3:00 am to fish at the rock jetty in the harbor. He also makes woodcarvings, which he sells to the yachties during the few months they crowd the harbor every year, like migrating birds. He also plays soccer on the "B". team. There are two villages on the island of Fatu Hiva, totaling 600 people. In both villages, the rare spot of flat land at the head of the harbor is a soccer field. Francis spoke with obvious pride how Hanavave had won the island football title from the neighboring town of Omoa. If the supply ship showed up, he and his team would be going 50 km to the island of Hiva Oa, to play a match on Saturday. When or how they would return I didn't think to ask. While Francis fishes, carves and plays football, Angele apparently sells fish and takes care of their children.
Between the attempts of conversation, we ate everything that they had offered. At the end of the meal, we asked how much we owed, and Francis asked if $10 per person was too much. I suspect such a price was a reasonable profit for them, even for an island where prices are twice those of America. But, regardless of whether they thought it was too much, it was a price we were more than willing to pay, as the hospitality of the dinner was worth much more. The next day we took them some red wine as thanks for their hospitality, and Peter bartered for a small carving with a combination of cash and shoes for soccer. We said our goodbyes and exchanged addresses, knowing the unlikelihood that we would ever use them. Their address is simply Angele and Francis, Fatu Hiva, Hanavave, Marquises.