Monday, July 14th 1200 EST (60o 10'N, 49o 50'W): 60 Degrees North
The unusually good weather that followed us upon leaving St. Mary's Labrador has averaged out with a vengeance. The last couple of days have been cold and overcast. The moon has not returned, and the sunrise this morning created a brilliant strip of light between the clouds and horizon, only to be totally obscured as we sailed into a fog bank that immediately brought colder temperatures (45o F) and removed any hopes for a sunny day. The following winds that graced us last Thursday first became light and variable and then have strengthen and are now coming straight from the direction of our next destination, Nuuk. Nuuk is approximately 230 nm due North of us, and slightly West. Nonetheless, but we are currently heading 25 degrees Northeast, as we tack our way, back and forth. As with the wind, so goes the water, necessitating Lillian's having to pound her way through the waves. Fortunately the wind is strong and the current up the western coast of Greenland is nearly a knot in our favor, so progress is steady, steady enough to resist the temptation to start the engine and head straight to Nuuk. In fact, it would be a poor trade-off given the noise and rougher ride, not to mention the consumption of diesel. After all, Lillian is a sailboat.
Meanwhile, the crew below gets to deal with life inside a tilted, bucking environment. If this were an amusement ride at Disney World, no one would buy a ticket. Cooking is a juggling act, often ending up with drink, food, utensils and/or plates on the floor. Both motion and simply standing still are a challenge. Normally level surfaces become notoriously unreliable and walls and edges and various corners become footholds for bracing, or landing pads, when moving/rolling/falling from one spot to the next. A visit to the bathroom (head) is exhausting in itself and not a decision that should be put off to the last moment. Some high-end boats offer foot braces that flip up out of the floorboards for extra leverage. Lillian's head is compact, which is actually an advantage, offering walls close by. The recommended procedure is simply to have a seat, whether male or female. Or, if the situation warrants it, planks are an advanced technique for those not wanting to pass up an opportunity to build core strength. This later technique is to done at one's own risk, assuming full responsibility for any and all consequences. Whatever the task, deliberate, well considered movements work best, with the full expectation that the next wave will be totally unexpected.
And thus goes life on board.
One notable event of the past 24 hours was the sudden appearance, at dinner time last night, of a pod of dolphins powering through the waves in apparent hot pursuit of the boat. These dolphins were twice as big as what one would typically find in Florida, and battleship grey, with a thick body shape similar to a Polaris class submarines. The ran close together, bumping into each other as eight or more would break through the surface, in line, like the horseman of the apocalypse. If they hadn't clearly been dolphins, it would have been an intimidating sight. As it was, it was a nice visit, especially given the sighting of an occasional pup, running immediately next to mom.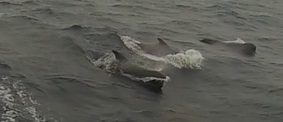 And, the other notable event of the day is that we have crossed the 60th parallel. Still hoping to make Nuuk by the 16th.